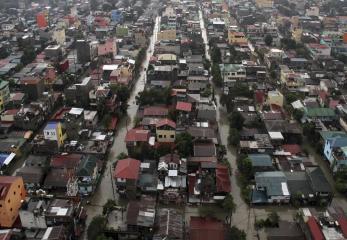 Parts of Metro Manila endure monsoon floods. A Philippine Air Force handout aerial shot shows houses affected by floodwaters in Paranaque City, Metro Manila August 20, 2013. Monsoon rains reinforced by a tropical storm flooded half the Philippine capital in just 24 hours. Reuters
(Updated 10:01 a.m.) - The number of people affected by heavy monsoon rain and floods since last weekend breached the one-million mark Wednesday, the National Disaster Risk Reduction and Management Council said.
Of these, 29,041 families or 132,969 people are staying in 425 evacuation centers.
At least 513 areas in 78 towns and cities were reported flooded.
Damage was estimated at P66,763,939, including P56.582 million in infrastructure and P10.181 million in agriculture.
At least 19 houses were destroyed and 17 damaged.
Power and transportation
The NDRRMC said at least 88 roads in Ilocos, Central and Southern Luzon, Metro Manila and Cordillera are still impassable.
At least 18 power interruptions were reported in Southern Luzon. 
The Philippine National Railways suspended operations Tuesday due to heavy rain and floods but announced Wednesday it is resuming operations. 
The heavy rains damaged a portion of the Subic-Clark-Tarlac Expressway (SCTEx) Tuesday, prompting authorities to close the affected part to traffic.
State of calamity
As of 12:58 a.m. of Wednesday, August 21, the following areas are still under a state of calamity:
Laguna Province Bataan Province Cavite Province Muntinlupa City Pateros  Parañaque City Malabon Taytay, Rizal San Mateo, Rizal Guagua, Pampanga Minalin, Pampanga San Fernando City, Pampanga Sta. Barbara, Pangasinan Narvacan, Ilocos Sur 
Under Republic Act 10121, the "Philippine Disaster Risk Reduction and Management Act of 2010," a price freeze for 60 days will be implemented for basic necessities in areas under a state of calamity.
Dams, dike
Flores said the barangays expected to be affected in Minalin are Sta. Rita, San Pedro, Sto. Rosario, San Nicolas, San Francisco 1 and 2, and Sta. Catalina.
Disaster response
Tropical Storm Maring exits
The monsoon was exacerbated by Tropical Storm Maring, affecting Metro Manila and nearby provinces since the weekend.
PAGASA forecaster Joey Figuracion said, however, that the weather will start to be sunny Thursday.
President Benigno Aquino III is scheduled to visit areas affected by Maring Wednesday.
http://news.google.com/news/url?sa=t&fd=R&usg=AFQjCNFeai4maJ5nqLJ3vgc8juhuN9wE4A&url=http://www.gmanetwork.com/news/story/322917/news/nation/more-than-one-million-pinoys-affected-by-monsoon-rain-floods
jika diwebsite ini anda menemukan artikel dengan informasi dan konten yang salah, tidak akurat, bersifat menyesatkan, bersifat memfitnah, bersifat asusila, mengandung pornografi, bersifat diskriminasi atau rasis mohon untuk berkenan menghubungi kami di
sini
agar segera kami hapus.