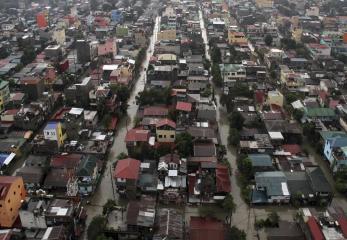 Parts of Metro Manila endure monsoon floods. A Philippine Air Force handout aerial shot shows houses affected by floodwaters in Paranaque City, Metro Manila August 20, 2013. Monsoon rains reinforced by a tropical storm flooded half the Philippine capital in just 24 hours. Reuters
While the rain over parts of Metro Manila finally began to ease early Wednesday, residents in parts of Quezon City remained on alert as the La Mesa Dam continued to overflow.
As of 5 a.m., La Mesa Dam's water level was at 80.24 meters, still higher than the spilling level of 80.15 meters, radio dzBB's Allan Gatus reported.
Local authorities reminded residents near the Tullahan River to stay alert as they may still be affected by the overflow.
Meanwhile, the alert levels for the Marikina River have not quite been lifted, dzBB's Glen Juego reported.
The report said that as of 5:15 a.m., the Marikina River's water level was at 16.3 meters, with Alert Level 2 in effect.
Several residents of Marikina had been forcibly evacuated from their homes Tuesday afternoon after the river's water level went beyond the critical level of 18 meters.
Heavy rain brought by the southwest monsoon enhanced by Tropical Storm Maring (Trami) had fallen over Metro Manila and nearby provinces from Sunday to Tuesday.
PAGASA had said the weather may start improving in Metro Manila Wednesday, though the weather nationwide is not likely to improve until Friday.
Meanwhile, other parts of Metro Manila remained flooded as of early Wednesday.
In Manila, floods remained, radio dzBB's Manny Vargas reported. The Lagusnilad underpass was still submerged, while floods were knee-high near City Hall and the Intramuros district.
In southern Metro Manila, the Metropolitan Manila Development Authority said the airport road was passable as of 3:36 a.m. — DVM, GMA News
http://news.google.com/news/url?sa=t&fd=R&usg=AFQjCNH4M5Az8ynknl0JnpqdyMqsemxorQ&url=http://www.gmanetwork.com/news/story/322896/news/metromanila/rain-finally-eases-but-la-mesa-dam-still-on-red-alert
jika diwebsite ini anda menemukan artikel dengan informasi dan konten yang salah, tidak akurat, bersifat menyesatkan, bersifat memfitnah, bersifat asusila, mengandung pornografi, bersifat diskriminasi atau rasis mohon untuk berkenan menghubungi kami di
sini
agar segera kami hapus.