by Rappler.com
Posted on 08/12/2013 4:12 AM  | Updated 08/12/2013 5:25 AM
What's the weather like in your area? Tweet us the situation: Use #weatheralert and tag @rapplerdotcom.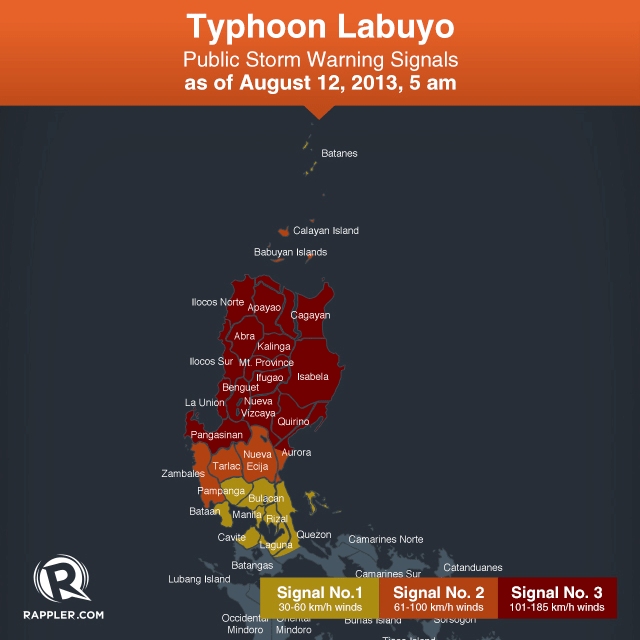 MANILA, Philippines (3rd UPDATE) — Typhoon Labuyo (international codename Utor) has made landfall early Monday morning, August 12, and is currently crossing northern Luzon, state weather bureau PAGASA said.
Labuyo made landfall over Casiguran, Aurora (16.1°N, 122.1°E) at around 3 am Monday.
The typhoon was spotted 45 km west of Casiguran (16.2°N, 121.7°E) as of 4 am, carrying maximum sustained winds of 165 km/h and gusts of up to 200 km/h.
It is currently moving west northwest at a speed of 22 km/h, the bureau announced in a press conference broadcast live from their Quezon City headquarters around 4:45 am Monday.
Click here for PAGASA's Severe Weather Bulletin No. 11 on Typhoon Labuyo
Heavy to intense rainfall (10-25 mm/h) is being experienced in areas within the typhoon's 600 km diameter.
Storm warning signal number 3 is in effect over the following areas:
Cagayan Isabela Apayao Kalinga Abra Ilocos Norte Ilocos Sur La Union Pangasinan Benguet Mountain Province Ifugao Nueva Vizcaya Quirino Northern Aurora
These areas could expect heavy damage to agriculture and property, along with moderate to heavy disruption to communications and power systems. Any type of travel - land, sea, or air - is dangerous.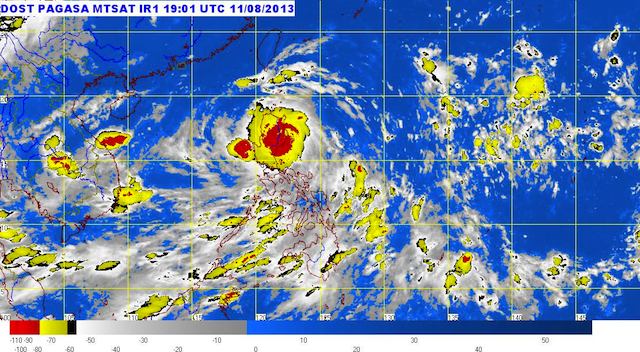 MTSAT ENHANCED-IR Satellite Image 3:01 a.m., 12 August 2013. Image courtesy PAGASA
Storm warning signal number 2 is hoisted over the following areas:
Calayan & Babuyan Islands Zambales Tarlac Nueva Ecija The rest of Aurora
These areas can expect moderate damage to agriculture, as well as to structures made of light materials. Travel by air or sea is risky.
Lastly, storm warning signal number 1 is in effect over the following areas:
Batanes Bataan Pampanga Bulacan Rizal Northern Quezon including Polilio Island Cavite Laguna Metro Manila
These places can expect winds 45-60 km/h within the next 36 hours.
Flash flooding, landslides, and storm surges are possible in all areas under storm warning signals.
The storm warning signals in other areas have been lifted, the bureau said.
Strongest so far for 2013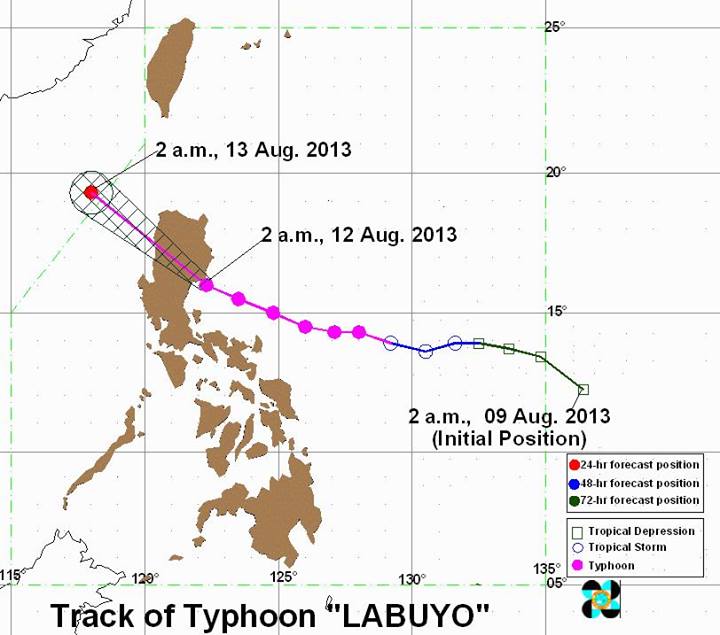 Labuyo is expected to weaken as it crosses land, and will pass over Region II, the Cordillera Administrative Region (CAR), and will exit in the general area of the Ilocos provinces towards the West Philippine Sea.
It is forecast to exit the Philippine Area of Responsibility (PAR) by Tuesday, August 13.
The typhoon, PAGASA said, is the strongest so far this year, in terms of wind speed, while foreign weather bureaus and meteorologists have categorized it as a super typhoon just prior to landfall.
The state weather bureau earlier said they deployed a team of scientists to Aurora to observe and gather data about the storm.
After passing through the Philippines, it is expected to move towards the general area of southeast China and northern Vietnam.
Labuyo will also continue to enhance the southwest monsoon, bringing rain to the rest of the country.
The next PAGASA update is at 11 am. - Rappler.com
http://news.google.com/news/url?sa=t&fd=R&usg=AFQjCNFyGGcXKMGtAZjy2HlxnRLYV5fELw&url=http://www.rappler.com/nation/special-coverage/weather-alert/36191-20130812-labuyo-am-update
jika diwebsite ini anda menemukan artikel dengan informasi dan konten yang salah, tidak akurat, bersifat menyesatkan, bersifat memfitnah, bersifat asusila, mengandung pornografi, bersifat diskriminasi atau rasis mohon untuk berkenan menghubungi kami di
sini
agar segera kami hapus.